Today I spent a couple hours walking through the wreckage that is autumn. In the spring, my afternoon walks are ripe with resurrection imagery — buds, blossoms, butterflies. Everything whispers "new life" and I'm emboldened to hope in the risen Christ. It's like a sermon: "Behold, I make all things new." But today, smack in the middle of October, nature clearly pointed to death: bare branches, bone-dry plants (with a few clinging to dear life), tiny animals scrounging for scraps. (I imagined them prepping for the winter apocalypse.) As much as I love spring and the signs of life that come with it, the fall imagery was beautiful, too — just in a different way.
Which got me thinking, how can death be beautiful?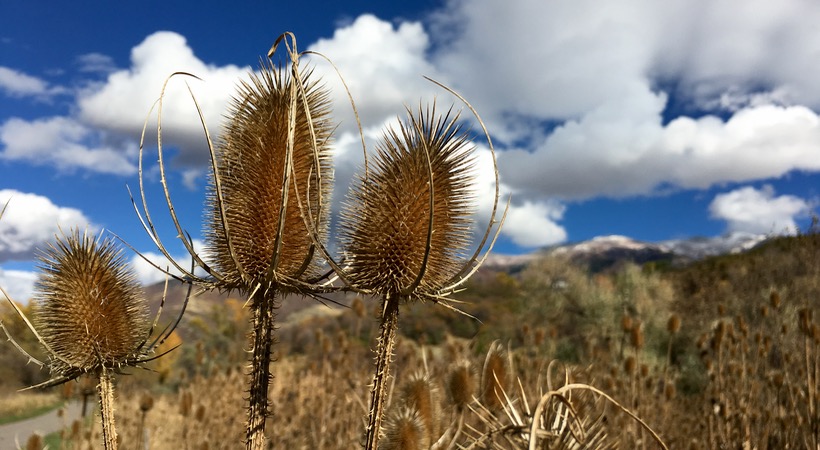 In Scripture, death is ugly — the costly wages of sin (Romans 6:23). But the death of Jesus gave death new meaning — even hope. Jesus, the best man to ever live — the only man who TRULY lived in the way we ought to, fiercely devoted to God and neighbor — this man who really lived, REALLY died. Like the beautiful, blood-red leaf that floats and spirals and plummets to the ground, severed from its source, the Son of God was slain. His corpse entombed for three days — a short season, but enough for the reality to set in. The tomb was sealed. The disciples mourned. The women blended burial spices together and knew where to find the grave. This was the real deal.
And yet Christians believe, somehow, this death is beautiful. Because this wasn't ordinary — not like all other deaths that came before it. This particular death marked "the death of death" for all who believe. On the cross, every last drop of God's wrath was poured out on the Son, who died in our place, and every bit of Christ's righteousness was given to us, in what theologians call "the great exchange." This death secured eternal LIFE for those who love Jesus — the one person whom death could never touch, because he was without sin, yet he submitted to it willingly. Yes, this death proved something: not only Christ's love for the Father, but also his love for us.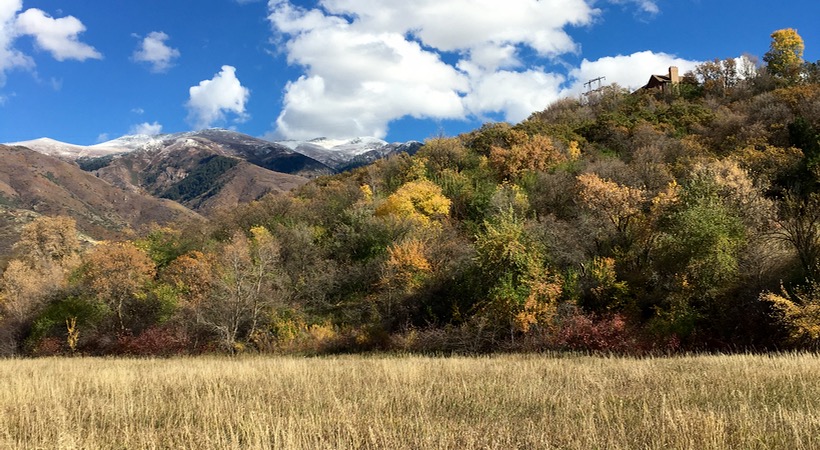 My second thought, as I crunched my way along the trail, was of dying to self — something all Christians are called to do. A few verses came to mind. Like when Jesus told his disciples, "If anyone would come after me, let him deny himself and take up his cross and follow me" (Matthew 16:24). Another time, he said, "Unless a grain of wheat falls into the earth and dies, it remains alone; but if it dies, it bears much fruit. Whoever loves his life loses it, and whoever hates his life in this world will keep it for eternal life" (John 12:24-25). Then there's Paul, who said, "For to me to live is Christ, and to die is gain" (Philippians 1:21). To die is gain. 
In all these passages, death for the Christian is redeemed, reimagined. I think that's why today, despite my affinity for spring, I was able to see something beyond death — something more like beauty — in the images that pervaded the landscape. At the end of the trail (right after my phone died), I spotted a caterpillar on the pavement. I picked him up with a twig and watched another sermon crawl before my very eyes:
When the perishable puts on the imperishable, and the mortal puts on immortality, then shall come to pass the saying that is written: "Death is swallowed up in victory. O death, where is your victory? O death, where is your sting?" The sting of death is sin, and the power of sin is the law. But thanks be to God, who gives us the victory through our Lord Jesus Christ.